As we have been looking into the last couple days, severe weather has been taking place through last  night and will continue today. We will bring you the latest on this situation as it becomes available.
9:30pm Update-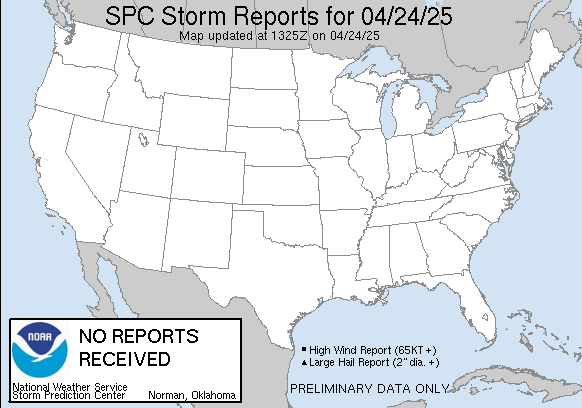 At this time, 49 tornado reports have been received. Click the image for the most recent reports from the Storm Prediction Center
7:15pm Update – nwsbot: 9 W Meridian [Lauderdale Co, MS] trained spotter reports TORNADO of F2 at 24 Apr, 09:50 AM CDT — multiple trees down across hwy 80 in the town of meehan. update…prelim survey by nws meridian employee and lauderdale county ema indicates 5 mile path of tornadic damage in lauderdale county with max intensity low end ef2.
6:20pm Update –
...A TORNADO WARNING REMAINS IN EFFECT FOR EASTERN SANGAMON AND
NORTHWESTERN CHRISTIAN COUNTIES UNTIL 645 PM CDT...
 This includes the city of Springfield, IL
4:45pm Update – Severe weather is moving into the St. Louis area. The entire metro area is now under a tornado warning.
nwsbot: LSX: Des Peres [St. Louis Co, MO] amateur radio reports TORNADO at 04:20 PM CDT — tornado touched down at west county mall…with damage being reported.
nwsbot: LSX: 1 E Fenton [St. Louis Co, MO] nws employee reports TSTM WND DMG at 04:20 PM CDT — large tree blown down.
3:15pm Update –  JAN: 4 N Starkville [Oktibbeha Co, MS] emergency mngr reports TORNADO at 02:06 PM CDT — one house destroyed and several roofs blown off homes. numerous trees and power lines down.
2:30pm Update –
A tornado warning has been issued for Starkville, MS. We used the power of our ExacTrack Doppler radar to get a view of the rotation associated with the storm.
Posted under severe weather
This post was written by qni_it on April 24, 2010