We begin our countdown with an event just a few days old. A strong storm system brought two types of weather warnings to the Southern United States on Christmas. A significant winter storm blanketed Oklahoma, Arkansas, and Kentucky with Little Rock receiving nearly a foot of snow. Along the Gulf Coast, 26 tornadoes touched down. Mississippi and Alabama were the hardest hit with a large twister passing through the city of Mobile. There were no fatalities because of the tornadoes (likely because of coverage by media and the National Weather Service). Two people were killed in Louisiana and Texas because of the severe storms. At least one death was blamed on icy weather in Oklahoma. Here is surveillance video from a Walgreens store near Mobile, Alabama. Note the people standing in front of the doors. That tops the list of things NOT to do during a tornado.


Supercells spawned several tornadoes in one day in the Dallas-Fort Worth Metroplex on April 3rd. 22 tornadoes in all with damage estimates more than $1Billion. There were no fatalities. Most memorable were the tractor-trailers hurled hundreds of feet into the air on live TV. Here is how WFAA-TV covered the storm.

Even though the first two stories in our top ten list were because of tornado outbreaks, 2012 as a whole is being studied for its lack of tornado reports. One of the main reasons for the lack
of storms was a persistent ridge of high pressure, one that caused all-time high temperatures to be broken across much of the Central Plains. Early in the year, many thought 2012 would become a record breaking year for tornadoes, but the strong ridge that developed in the summer prevented any significant systems from moving through the country. Click on the graph to see how 2012 started on a very stormy note, but ended once the high pressure-show stopper moved in.
When you think of big weather events in Northern Minnesota, you immediately think of snow, not floods. In 2012, our #7 story comes from Duluth where a persistent complex of thunderstorms dropped 9 inches of rain on the city in just over 24 hours. Because much of the city lies on the side of a hill (that slopes into Lake Superior), the torrents caused city streets to become raging rivers, washing out cars, and even the roads themselves! The city's zoo was inundated causing many animals (the seal pictured here) to escape from their enclosures. In addition, millions of dollars in books were destroyed at the University of Wisconsin-Superior library. Click here to read more and see pictures of the recovery effort there.
The deadliest tornado outbreaks of 2012 occurred between February 29th and March 3rd. Harrisburg, Illinois was struck by an EF-4 tornado that killed at least 7, injuring dozens more.
The twister came into the city shortly after 4AM, an unusual time for such a strong tornado. Earlier in the night, the same system spawned a powerful tornado that damaged the popular tourist area of Branson, Missouri. States affected included Nebraska, Kansas, Missouri, Illinois, Kentucky, Indiana, and Tennessee. 15 people were killed in the outbreak on February 28/29. However, a worse outbreak would occur just days later when 40 people died March 2nd and 3rd. Areas around Louisville and Cincinnati saw significant damage with 22 people killed in Kentucky alone. In New Pekin, Indiana, a 15-month-old toddler was swept out of the arms of her parents during a tornado. The baby was found alive in a field by first responders. After intensive care, the baby died, along with her parents and two siblings.

Every spring, forecasters around the country get praise for producing their hurricane forecasts.
However, it takes only one hurricane making landfall in a populated area to do extreme amounts of damage. There are two tropical systems on our list this year. Coming in at number 5 is Hurricane Isaac. Nine people were killed as Isaac made landfall as a category 1 hurricane near the Mouth of the Mississippi River in Louisiana on August 28th.
Because the storm moved so slow once it made landfall, extreme flooding occurred in Southern Mississippi and Northern Louisiana. Evacuations of entire towns took place because dams were threatened by unprecedented high water. Isaac did $2.3 Billion in damage killing 42 in the Carribbean and the U.S.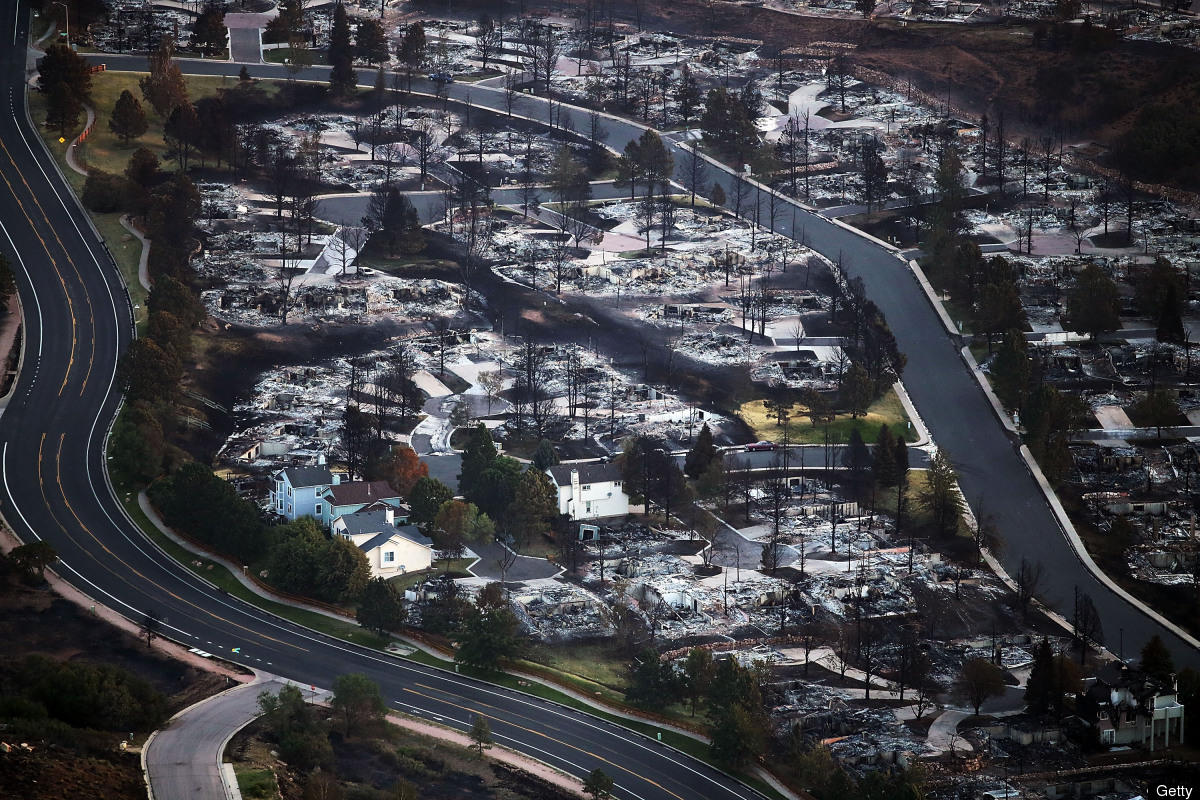 In early July, an orange sky filled the skies over Colorado Springs, Colorado for several nights as forest fires raged out of control. Whole neighborhoods in Waldo Canyon were burned to the ground as thousands of acres burned uncontrollably for several days in what would become Colorado's worst wildfire in history. (Click on the image above to view in full-screen mode.) Other fires burned in the mountains above Denver for several days.
Residents in every state of the country will remember 2012 for its abnormal weather. From a  significant drought, devastating fires, a lack of storm systems, and blazing heat. This was an extreme year. In the contiguous United States, 2012 was off the charts when it came to warmth. This graph shows how 2012 couldn't even be compared to another year.
All-time record temperatures were set in the Plains with consecutive 110°+ days in Oklahoma. For the first time in history, March was warmer than April in many cities (including Rockford). Records were set nationally with the United States recording the warmest March ever. July 2012 was the warmest month in United States history!

The number two story on our list encompassed the most land area of the United States. And even though our thoughts of drought wane during the winter, it will continue well into 2013. Not only were the Plains baking in July, there wasn't a drop of water to be found for weeks on end. Lakes and rivers almost dried up completely, including river levels locally that hadn't been seen in a generation.
Here is a look at how severe the drought remains as we head into 2013. It is important to receive snow and rain during the winter season as it replenishes the soils with moisture and nutrients. This is essential to alleviate worse conditions in the following growing season. The significance of the drought (as it is today) couldn't be corrected by rain and snow unless the pattern shifted to above-normal precipitation for a period of 1-3 months.
The 2012 drought may rival Superstorm Sandy as the most costly natural disaster of the year with damage estimates ranging between $75-150 Billion. According to Deutsche Bank Securities, the drought will be responsible for a 0.5 to 1 percent drop in U.S. gross domestic product in 2012, adding insult to injury when it comes to a struggling economy.
(Click image for a fullscreen view of how the superstorm moved a beach a half mile into a neighborhood). A hurricane, the likes of which no one living has ever seen, struck the United States in late October. Hurricane Warnings were posted for the Bahamas a week earlier as Hurricane Sandy unleashed wind and waves onto the island chain as a category one hurricane on the Saffir-Simpson Scale. Computer model forecasts were ominous, paralleling the Carolina coast with a sharp left-hand turn occurring with rapid intensification into New Jersey and New York City. Not only were Meteorologists mesmerized at the forecast, many wondered how it could even occur. However, two days before landfall, an unusually strong high pressure ridge developed over the maritime provinces of Canada. This, in effect, steered Sandy to the west, slamming it into the coast on October 22nd.
What made this an unprecedented storm was the interaction with a non-tropical low pressure system coming in from the northwest. This caused the storms to hybridize as landfall occurred making it a superstorm. The terminology was new to Americans, but the aftermath was all too real.
Superstorm Sandy caused many to wonder if climate change was to blame. It is this Meteorologist's view that Sandy was not caused by climate change; instead it was amped up by warmer water. In addition, global warming has caused sea level to rise in the past 20 years which increased the damage along the coastline from the storm surge.
The coastline of New Jersey was forever changed as the surge destroyed entire pieces of the sandy shore. A large fire raged out of control on New York's Long Island, causing an entire neighborhood in Breezy Point to burn to the ground. Much of New York City saw power outages with a significant number of subway tunnels inundated.
When Hurricane Sandy approached the Carolinas, I commented privately that the wind field and storm surge forecast could become a Katrina-like disaster. While Sandy never got a sustained wind higher than 110mph, it produced a wind in a much larger area of the coast. Because of that, the conditions caused 253 people to lose their lives. As of this writing, damage estimates have surged to $65.5 Billion making it the second costliest hurricane in United States history, behind Katrina.
Click here to review the top ten weather stories of 2011.
Click here to review the top ten weather stories of 2010.
Click here to review the top ten weather stories of 2009.
Posted under weather
This post was written by qni_it on December 31, 2012